What to Watch for if Lightning Strikes Your Home | SERVPRO® of Citrus Heights/Roseville
10/14/2019 (Permalink)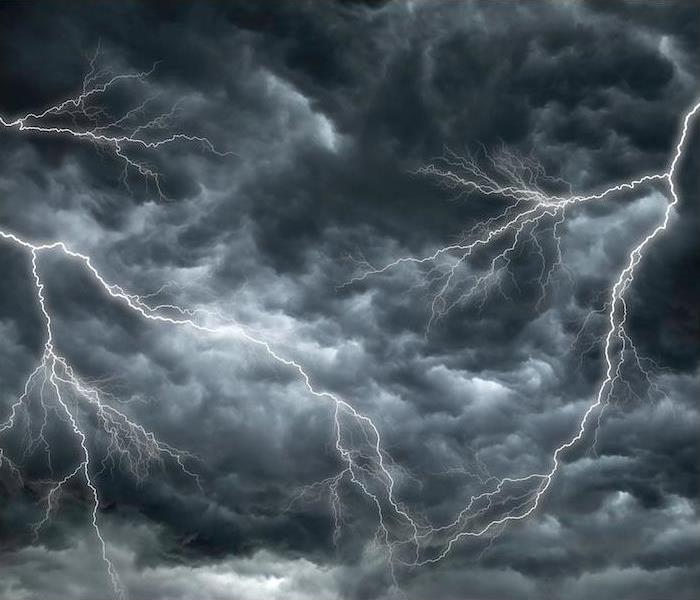 Storm and lightning damage require specialized restoration techniques and equipment. When a storm hits your home, you need the company with experience
A strike of lightning to the ground may look majestic, but it is also one of the most dramatic displays of a thunderstorm's power. Structural, electrical and fire damage are all common following a lightning strike, and it is important to know how to prevent these things from occurring.
The Background on Lightning

An electrical charge is at the heart of all thunderstorms, as well as the heart of the thunder and lightning they contain. Lightning bolts are the storm expending some of this energy, either across the clouds or toward the earth.

As the atmosphere is a poor conductor, lightning typically travels through an object to get to the ground. It also typically will cause damage to the object it passes through, and homes are no exception.

What to Check for After a Thunderstorm

A home being struck by lightning provides the perfect pathways for it, in the way of electrical wires and water pipes. This is why the ways lightning can damage a house leave very specific signs to look for:

1. Electrical damage. Reaching up to 500,000-degree temperatures, it is not unheard of for lightning to ignite a building on impact. However, it can also cause serious electrical damage, increasing the risk for a future fire to arise. If lightning has struck your home, have an electrician do an inspection for hot spots.

2. Electronic operation. A home's electrical system is not designed to handle the voltage a lightning strike produces, which can cause serious damage to anything plugged into the wall. Check appliances and electronics after a strike, and install surge protectors as a prevention method.

3. Structural damage. Thunder is a result of lightning striking across the clouds, as the shock waves reverberate through the air. These powerful waves also exist when lightning strikes the ground, causing serious structural damage such as cracks in a home's foundation. A thorough inspection should be done after each storm to evaluate damages.

If your home has been affected by storm damages or lightning-related fires, give us a call today! We are experts in damage cleanup and can restore your damage quickly.